The blue light filters available for computers can very well selectively obstruct this high energy rays by blocking it. It can prevent the significant amount of blue light passing through to your eyes without affecting the clarity of the display. Here are the best Blue Light filter for windows PC to protect your eyes.
Ever worry about how your computer habits can affect your life? You should, because blue light has been shown to disrupt your sleep cycles, delaying the amount of time it takes for you to fall asleep. Please check out Ontario Association of Optometrist's video Sleepless Are Screens Keeping You Awake? to learn more. There are a few ways to reduce the amount of blue light exposure from using your devices. You can purchase glasses with an anti-reflective coating that filters the blue light, reducing the amount that reaches your eyes.
In addition to those blue light AR-coating glasses, you can do a few tricks on your PC/Mac, Android, or iOS devices that reduce the emission of blue light. Generally, these will remove blue light from showing on your screen, which leads to softer and yellower light that is easier on your eyes. Below are step-by-step instructions on how to set up a blue light filter for your device:
The best, and easiest solution is a program that you can install called f.lux . This program is great because it is so easy to set up. Based on your location that you enter, f.lux will automatically pick up on when the sun sets and rises to turn on or off the blue light filter.
Download f.lux for PC or for MacOS
Install and follow the prompts needed to complete set up
It's seriously that simple. There are settings where you can adjust the colour of the filters but I don't recommend playing around with it. Also, you can disable the filter for one hour when you need to do colour-sensitive work, such as graphics design, or watching videos. You can access all of this in in the System Tray on Windows:
Blue Light Filter Macbook
I recently learned that Mac OS X 10.12.4 has a native Night Shift filter as well. Make sure your Mac has Sierra OS X 10.12.4 and is one of the following :
MacBook (Early 2015 or newer)
MacBook Air (Mid 2012 or newer)
MacBook Pro (Mid 2012 or newer)
Mac mini (Late 2012 or newer)
iMac (Late 2012 or newer)
Mac Pro (Late 2013 or newer)
Apple LED Cinema Display
Apple Thunderbolt Display
LG UltraFine 5K Display
LG UltraFine 4K Display
Go to Apple Menu > System Preferences > Displays.
Click on the Night Shift tab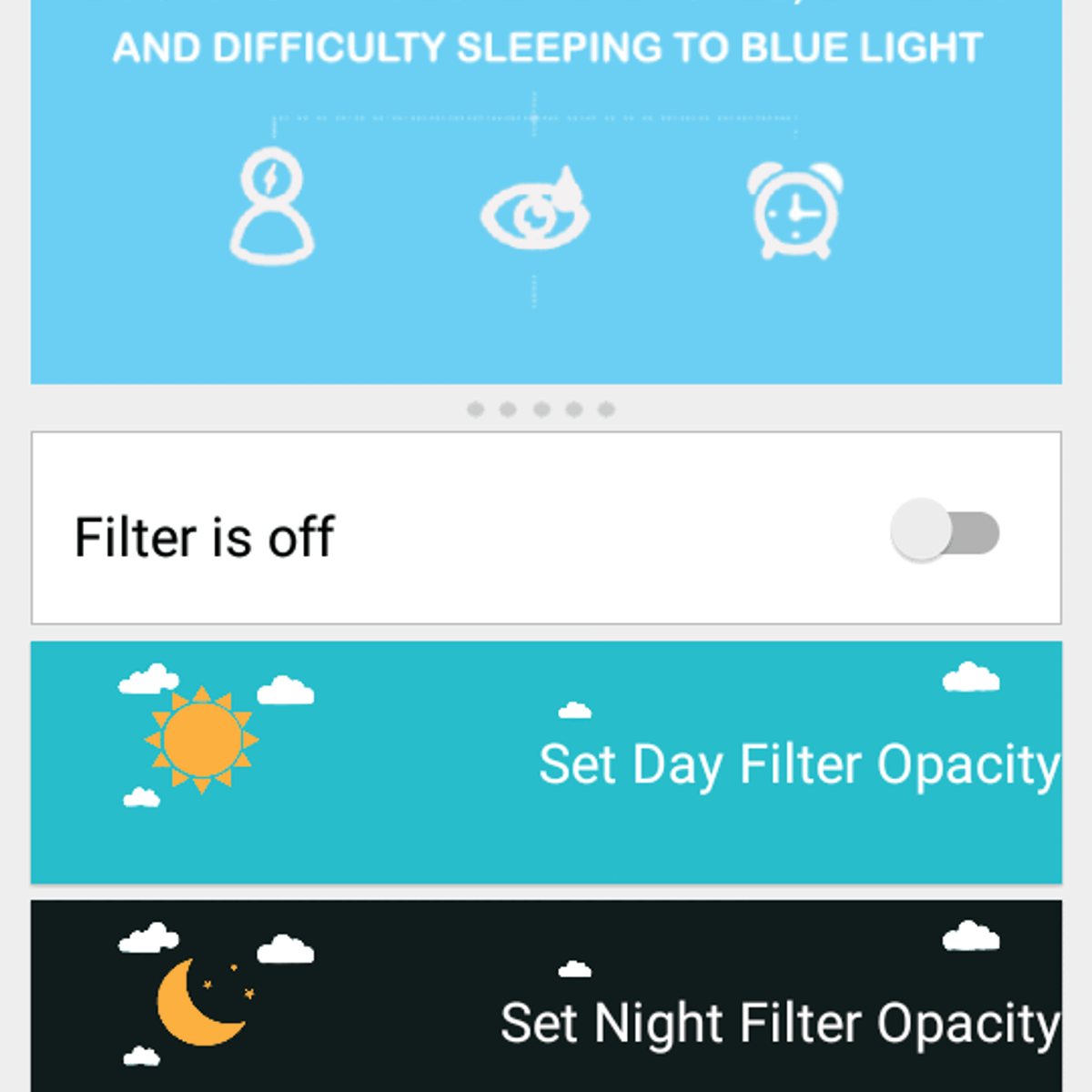 Blue Light Filter For Mac Computer
You can adjust the schedule and colour on this screen. You can also control Night Shift from the notification centre as well:
Please make sure your iPhone/iPad is on iOS 9.3 to use their native feature.
Blue Light Filter For Macbook
On the home screen, swipe up from the bottom to open the control centre
Tap on the Night Shift Icon on the shortcuts row
This will automatically set your device to turn on Night Shift when the sun sets to when the sun rises.
If you want to customize your Night Shift features, go to Settings > Display & Brightness > Night Shift. On the same screen, you can schedule a time for Night Shift to turn on automatically and adjust color temperature.
Perhaps this is the trickiest one to do if you aren't tech-savvy, but it is possible and I will walk you through it! You will have several options depending on what version of Android you are running, and whether or not you are rooted. I will give my best recommendation depending on which version you are running.
The easiest way to install a blue light filter would be to use an app called an Twilight, which you can download from the Play Store here
After installing, you can open the app to pause/resume filtering, adjust the colour/intensity/brightness of the filter, and adjust the filtering times to work with your sunrise/sunset location
You can also drag down the notification centre to quickly pause/resume Twilight, and access the settings from there
This is my favourite and current way of filtering blue light because its a feature that is native to the Android operating system. Please make sure you are running Android Nougat (7.0+) to have this work.
1. Enable the 'System UI Tuner' by dragging down the notification tray (swipe down twice fully) and press and hold the little gear icon in the top right corner for settings for 10 seconds until it says 'Congrats! System UI Tuner has been added to settings'.
2. Head to the Play Store and install Night Mode Enabler from here
Blue Light Filter For Mac Laptop
3. Run the application and click 'Enable Night Mode'. It should take you to another screen and then in the System UI Tuner set the slider to 'On'
4. From here, you can adjust the time & location settings, tints, and brightness of the filter
I don't have much to say about this section because only a small portion of the population has a rooted Android phone. As a root user myself, I do have a few recommendations for my tech-savvy readers! My favourite root app for blue light filter is C.F Lumen . This app actually works without root as well, but it does not work as well as when it is in root mode. There's a lot of customization that you play around with in this setting and I don't normally recommend it to the average user unless they wish to explore it. Also, f.lux made an Android app if you wish to try that out as well, but it only works in rooted Android devices.
I hope you found my post helpful in giving you less eyestrain from using devices throughout the day. I am positive that anyone who owns a device with a screen can benefit from having a blue light filter installed. If you have any questions or need some help installing, feel free to Contact Me!