There is plenty of Mac optimization software out there, but when it comes to picking the appropriate one, users immediately have two solutions in mind: CCleaner, whose registry cleaner equivalent on PC is one of the most popular available; or CleanMyMac, a true powerhouse loved by many. Although CCleaner is a bit simpler it is still more than capable of handling the nasty scanning and cleaning process automatically for free, or for very cost-friendly prices if you choose to pay. CleanMyMac, on the other hand, sports countless thorough cleanup solutions, extra maintenance options and even built-in RAM optimization, all of which can be available for up to five Macs.
Main Features

CCleaner

CleanMyMac X

Logo
Rating
Reviews
Visit
Free Trial
Free Trial
Free Trial
Coupons
Coupons
Coupons
System Cleanup
Cleanup Customization
Trash Cleanup
Browser Cleanup
Photo Cleanup
Language Removal
Cache Cleanup
Mail Cleanup
iTunes Cleanup
Log Cleanup
Utilities

CCleaner

CleanMyMac X

Uninstaller
Shredder
Startup Optimizer
Memory Optimization
Privacy Protection
Reindex Spotlight
Mail Optimization
Duplicate File Removal
Screenshots for CCleaner for Mac. BleepingComputer Review: CCleaner is a program that will scan your computer for privacy information and deletes it from your computer. This allows you to keep.
Pricing

CCleaner

CleanMyMac X

Price
$14.95
$39.95
Free Trial
Free Version
Money Back Guarantee
30 days
30 days
Payment Methods

CCleaner

CleanMyMac X

Visa
PayPal
MasterCard
American Express
Wire Transfer
Discover
Amazon Payments
Customer Support

CCleaner

CleanMyMac X

24/7
n/a
n/a
Email
Live Chat
On Call
Remote Desktop
Community
Twitter
Facebook
CCleaner
Ccleaner For Mac Review 2017
Even though CCleaner for Mac is 'only' a cleaning solution and is often considered inferior to its PC counterpart, it is still preferred by many for very good reasons. The primary reason is its ability to perform thorough scans and repairs in a very short amount of time and that it isn't limited in this regard by your choice of subscription. You can easily determine which apps and system settings should be analyzed by CCleaner and remove any unwanted trash files, logs, caches and other junk with just a click of a button. Aside from the usual extras like a precise uninstaller and a startup optimizer, there is also the Erase Free Space option that helps you to remove hidden traces of once deleted files from your hard drive(s) for good. With CCleaner you can also see a complete list of cookies your browser uses and determine which to keep and which to destroy.
Scans
Startup Optimizer
Erase Free Space
Cookie Manager
The Startup Optimizer
Browser Cookie Management
As mentioned earlier, CCleaner can perform unlimited scans and repairs in any pricing plan, even the free one. However, by paying only $24.95 (which further decreases the more licenses you purchase) you get added extras such as automated browser cleaning, junk monitoring, program updating, priority support and, the best of all, a 30-day money back guarantee.
CleanMyMac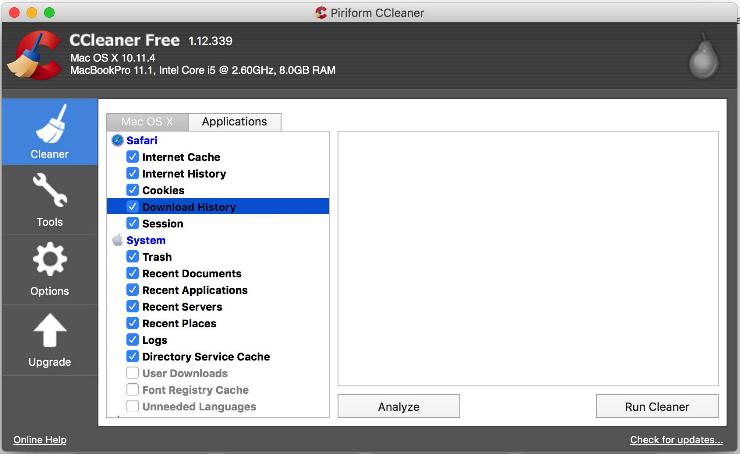 Considered the Ferrari of Mac optimizers, CleanMyMac has everything a self-conscious Apple user needs for a clutter-free computer. Aside from a versatile customer support you get an easy to use client with plenty of optimization options. There are myriad small touches too, such as the dashboard where you can even optimize your RAM with just a click. If you want a program with brutally thorough scans, CleanMyMac is your choice: it examines virtually everything and spots every type of junk file, whether it's produced by the system or pre-installed apps. However, you can also perform individual scans that focus on a specific area, use the uninstaller, the file shredder, the extension and privacy manager to manage your system, and even undergo smaller maintenance tasks like repairing disk permissions, flushing caches or reindexing the Spotlight search app.
Performing Deep Scans
Maintenance Tasks in Action
Ccleaner Professional Plus Review
Unlike its competitor, CleanMyMac's free version limits how much junk it will remove rather than restricting any of the features that are available. In order to clean more than 500MB of junk and become eligible for the 30-day money back guarantee, you have to purchase a license for $39.95 or opt for up to 5 licenses to save 55% on the purchase price. CleanMyMac is also available in software bundles that include other apps developed by MacPaw or even the PC equivalent CleanMyPC of this software.
Conclusion
Ccleaner For Mac Review 2017
Although we have a feeling that the deciding factor will be the price and how much the free versions provide, both cleaning solutions are more than capable of performing satisfactory scans and repairs on your Mac.
Ccleaner For Mac Review 2018
CCleaner is the simpler software, but sports strong features like quick analysis and cleaning, a startup optimizer, Erase Free Space option, cookie listing, and automated browser cleaning, junk monitoring and program updating. Moreover, its free version is barely limited and it provides its remaining services for cost-friendly prices. However, if you are willing to spend a little more money, you can get access to a champion with CleanMyMac. It has a simple client, plenty of thorough performance boosting options (including a memory optimizer) and smaller maintenance features to repair permissions, flushing caches and many more. And to make things better, you can reduce this product's price by opting for more licenses or acquiring it in valuable software bundles.