Voice dictation company Nuance today announced a collection of new software upgrades, including Dragon Professional Individual (version 15), Dragon Legal Individual (version 15), and Dragon Professional Individual for Mac (version 6). As with all versions of Nuance's software, the new updates are said to feature 'powerful dictation, transcription and customization capabilities' to allow users helpful and responsive dictation features with an emphasis on workflow.
The Dragon software lets its users precisely dictate reports, spreadsheets, emails, and other documentation using only their voice. Specifically on the new Mac release, the software has had its accuracy boosted up to 24 percent over previous iterations of Dragon. Helpful tips will get new users 'up to speed quickly,' while further educating existing Dragon fans into the complexities of Nuance's product.
"This latest suite of professional productivity solutions brings with it some of the most advanced capabilities to drive documentation productivity – with higher accuracy, speed and efficiency," said Peter Mahoney, senior vice president and general manager of Dragon. "Combined with Dragon's optimization for portable touchscreen PC's and the ability to sync with Dragon Anywhere, professionals are able to keep up with documentation demands from just about anywhere their business takes them."
In the new update, Nuance has introduced a 'Batch Mode' to allow users to transcribe multiple audio files at once, as well as introducing full text control to empower 'users to work even more quickly and accurately by voice.' Using Apple's accessibility API, Dragon Professional Individual for Mac supports Apple Pages, Apple Keynote, Apple Numbers, Microsoft Outlook 2016, Scrivener, and other document creation programs.
The release on the Mac -- as well as Dragon on the PC -- uses Nuance's new 'Deep Learning Technology' to learn each of its users' voice patterns and accents. This allows Dragon to recognize and adapt to the environment, be it in a quiet office or outside, which is a possibility thanks to the company's Dragon Anywhere mobile app that launched late last year. Over time, this speech data is accrued to improve Dragon's voice dictation features and result in a more naturalistic readout of transcribed speech.
The English version of Dragon Professional Individual for Mac will go on sale for $300 on September 1 (digital) and September 14 (retail) in the United States, United Kingdom and Australia. Nuance is also holding a special upgrade pricing scheme, selling Dragon for $150 for users who own registered versions of Dragon Dictate for Mac, versions 4 and higher. Those interested in the other Dragon software bundles can find out more about Dragon Professional Individual for PC and Dragon Legal Individual on Nuance's official website.
Be the first one to know about our latest products, hot deals and software updates. Subscribe to our newsletter.
Nuance Announces Latest Version of Dragon for Mac Medical Speech Recognition Software. Dragon for Mac Medical is currently available for digital download for a limited-time promotional price of $999.99 from the Nuance online store in the United States and will be available through Nuance's partners and online stores in other English.
Dragon speech recognition Nuance Dragon Dictate for Mac, v4 Command Cheat Sheet About Nuance Communications, Inc. Nuance Communications is reinventing the relationship between people and technology. Through its voice and language offerings, the company is creating a more human conversation with the many devices, electronics, apps and services.
Next-Generation Speech Engine – Dragon Professional Individual for Mac is powered by the latest version of the Dragon speech recognition engine, and leverages Deep Learning technology. This is the same state-of-the-art technology used by Dragon NaturallySpeaking – the world's #1 speech recognition software for the PC.
Dragon Professional Individual for Mac supports Nuance-approved digital voice recorders and smartphones for advanced recording functionality and can automatically transcribe the audio files to text back at your Mac. It leverages all the accuracy improvements gained from the state-of-the-art speech recognition engine for fewer post-corrections.
Guides
Upcoming
Front Page Stories
Apple TV+ Offers Highest Quality 4K Streaming, Averaging Up to 29Mbps

AirPods Pro vs Powerbeats Pro

15 hours ago on Front Page

Apple Releases New Trailer for Original Film 'The Banker' With Anthony Mackie and Samuel L. Jackson

21 hours ago on Front Page

Microsoft Introduces Unified Office App for iOS and Android

22 hours ago on Front Page

Adobe Launches Photoshop for iPad

22 hours ago on Front Page

Apple Commits $2.5 Billion to Fight California Housing Crisis

1 day ago on Front Page

DigiTimes: Apple Partnering With Valve to Develop AR Headset

1 day ago on Front Page

Ad Data Points to Apple's 'Slow Roll' Promotion of Apple TV+

2 days ago on Front Page
• Goldman Sachs Issued $10 Billion in Credit Lines for Apple Card
(216)
• Hands-On With the New Apple TV+ Streaming Service
(185)
• Apple Seeks Tariff Waivers on iPhone Components, Apple Watch, AirPods and More
(102)
• Apple Shares Official Trailer for 'Ghostwriter' Show Now Available on Apple TV+
(18)
• Five New Games Added to Apple Arcade, Including 'The Mosaic'
(44)
• Apple Watch Competition to Grow as Google Plans Its Own Wearables Following Fitbit Acquisition
(182)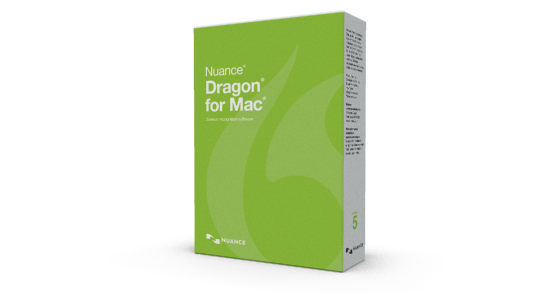 • Apple TV+ Streaming Service Launches With 'Dickinson,' 'For All Mankind,' 'See' and More
(292)
Nuance Dragon for Mac 5.0.5
Whether you're creating documents, spreadsheets or presentations, sending emails, filling out forms or simply looking to reduce typing stress, Dragon for Mac drives productivity at work. Dictate and transcribe documents with a fully customizable experience that optimizes speed and accuracy. Even connect to the soon-to-be released Dragon Anywhere mobile app for iOS or Android for an end-to-end voice productivity solution that helps you work smarter and faster wherever your job takes you.
Powerful documentation
Get documentation tasks done faster
Most people can talk faster than they can type, so why not use your voice to quickly dictate and edit documents? Dragon for Mac lets you customize words for the terms you use every day, insert frequently-used text or graphics and create command short cuts for repetitive tasks, so you can complete documentation faster than ever before.
Speed through document creation 3x faster than typing
Enjoy increased accuracy as Dragon adapts to your voice
Supports latest applications, including Microsoft Word 2016 with Full Text Control
Give your wrists a rest and reduce repetitive stress injuries
Powerful transcription
Turn voice files into text—instantly
With Dragon for Mac, you can transcribe voice memos from a smartphone or portable voice recorder, podcasts or audio files of any single speaker's voice to text quickly, easily and accurately.
Transcribe from .mp3 aif, .aiff , .wav, .mp4, .m4a, .m4v.
Capture notes for accurate transcription
Transcribe audio file of any single speaker's voice
Manage multiple sources for easy transition between personal dictation and other files
Mobile productivity
Stay productive wherever you go
Nuance Dragon For Mac Reviews
Continue creating and editing documents—even when work takes you away from the office. With the separate, cloud-based Dragon Anywhere mobile app you can dictate and edit documents of any length by voice directly on your mobile device to maximize productivity at the office or on the road.
Dragon Naturally Speaking Free Download
*Dragon Anywhere is now available on Android. iOS is not yet available and is coming soon. Subscription is required for the Dragon Anywhere app.
Works with Android devices
Nuance Dragon Dictate For Mac 5.0
Syncs documents, preferences and customizations with your Dragon desktop so you can continue your work seamlessly wherever you go
Nuance Dragon For Mac Discontinued
Easy customization
Works the way you do
Imagine saying "Insert Signature" and Dragon fills in your contact details or dictating industry-specific terminology and Dragon types every word correctly—every time. With advanced customization and personalization features, Dragon for Mac intelligently adapts to the way you work to deliver big productivity gains.
Nuance Dragon Dictate For Mac
Screenshots
Dragon For Mac Download
Nuance Dragon Software For Mac
Title:

Nuance Dragon for Mac 5.0.5

Developer:

Nuance

Compatibility:

OS X 10.9 or later, 64-bit processor

Language:

English

Includes:

K

Size:

2.36 GB

visit official website
NitroFlare: