Most laptops, tablets and phones come equipped with a webcam, a visual way to communicate with others over the Internet. If you own a desktop or all-in-one computer instead of one of these portable devices, you will probably need an external camera to attach to your monitors. Mac Webcams That Just Work Looking to buy a driver-free, fully Macintosh compatible webcam? Have USB 2.0, 3.0 or 3.1 ports? The external webcam models listed here are UVC - USB Video Class compliant and are simply Plug and Play on modern Macs running MacOS Catalina, Mojave and Sierra, as well as OSX El Capitan, Yosemite, Mavericks, Lion, and Leopard.
While most people will go their computer's whole life only ever using the built-in webcam for fun pictures or to occasionally Skype Grandma, the professional world brings a whole range of uses for the webcam, and sooner or later the built-in one isn't going to cut it. Sometimes, the webcam built into your PC or Mac simply doesn't work, sound familiar?
It's no secret that a webcam isn't any laptop's flagship feature, and many desktops don't come with one, so you're going to need an external model with the recording and streaming quality that's up to par. We'll show you a few of our top picks, and help you find which webcam is going to be the best fit for you.
Quick Summary
An all-around champion, Logitech C920S Pro HD Webcam works on Mac and Windows to bring you a video that works for you through a combination of high tech software and quality hardware. It offers 1080p video calling on Skype.
If you're on a budget, Logitech HD Webcam C310 offers similar features and records in 720p HD but doesn't have the same price tag as many comparable models. It has a noise-canceling microphone and will produce crisp images. Windows only.
For a little more customization, Growfast Full HD Webcam offers HD streaming and recording with an adjustable focal lens and a 100-degree viewing angle that will make sure everyone gets in the group shot. Works on both Mac and PC.
Do You Need An External Webcam?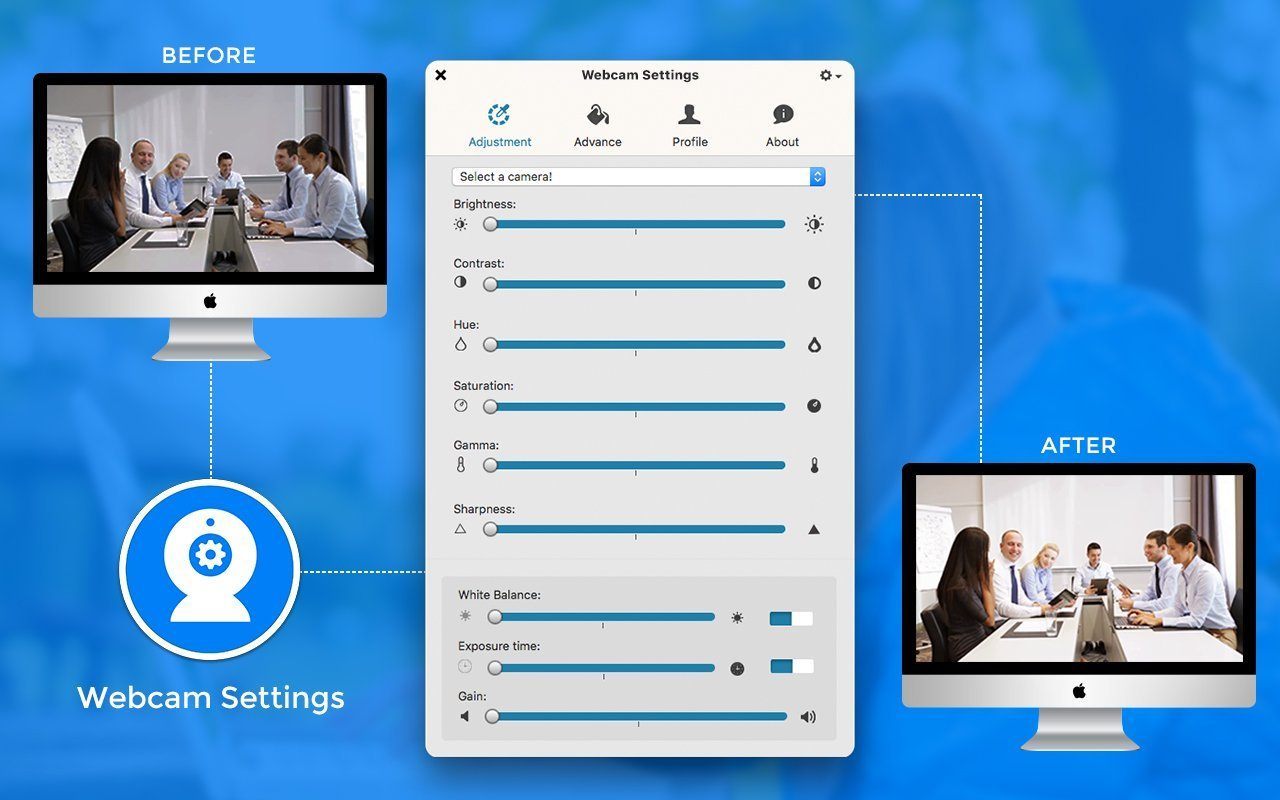 If you're a businessperson who regularly works with long-distance clients, a high-quality webcam should be a no-brainer. It will allow you to meet in a face-to-face setting without excessive travel fees and from the comfort of your own office, as well as provide an avenue for better communication and cooperation.
Additionally, having a high-quality camera will be more professional than the low dpi model that comes on most laptops and make for a more enjoyable experience on your client's side.
On the other hand, if you just plan on Skyping with family occasionally, you probably don't need a fancier webcam. If your computer doesn't already have one, it doesn't hurt to look through our suggestions, but in most cases, upgrading is fairly unnecessary unless your built-in model is not working, truly awful, or not remotely possible.
Skype Webcam: What to Consider?
Recording & Streaming Quality
This is perhaps the most important aspect of a webcam because it largely determines how easy on the eyes your image will appear to your audience.
Although their computer and wifi might limit the quality they can view, you should always send the best possible video you can — which means ditching any 480p cameras and definitely going for 1080p (HD).
Also keep in mind that not all webcams stream at the same resolution that they record in, so make sure you read the fine print.
Frames Per Second (FPS)
While this rating can again, be affected by your computer or your client's computer, the FPS refers to how many times the image updates per second while it is on the screen.
Anything less than 30 FPS becomes increasingly unpleasant to view, as it will appear choppy and not correctly depict motions or other visuals.
Zoom & Additional Features
Just like on a normal camera, zooming in will cause quality to decrease rapidly, so if your webcam of choice offers this feature, make sure it also includes the necessary hardware to account for the inevitable loss of quality.
Some webcams also offer features such as a wider angle of capture (good for if you want to have more than one person in front of the camera) or different mounting systems – make sure to see if you have any specific needs that can be met with a more specialized product.
Best HD Webcam for Skype in 2019: Our Picks
1. Logitech C920S Pro HD Webcam

This high-tech webcam from Logitech has a lot to boast in, both on the inside and the outside. The small form factor is great for any desktop or laptop, and the wide angle lens will make sure you stay in the frame no matter what. It's compatible with Windows 10 or later, and MacOS 10.10 or later.
Pros:
1080p video calling on Skype, 720p on other platforms such as FaceTime or Google Hangouts.
1080p recordings and special uploading software so your streaming stays fast and accurate.
A microphone collect stereo audio, while the lens automatically adjusts for the best lighting.
Cons:
Technically includes two mics, but because they are only inches apart the stereo effect is virtually nonexistent.
2. Logitech HD Webcam C310

If you're on a budget but still want a high-quality webcam that can deliver crisp images and clear sound, this is the best choice for you. The small but mighty C310 clips onto any laptop or desktop you have with ease and connects via USB to your computer. It records and streams in 720p.
Pros:
Automatically adjusts for poor lighting and includes a noise-canceling mic so that your voice comes through as clearly as possible.
Records and streams in fluid 720p produce clear images that'll be easy to see on any client's computer.
Cons:
Webcam For Mac Computer
Windows only, will not function properly if used on a Mac.
3. Growfast Full HD Webcam

Offering special features such as a manual focus for when you need to adjust to include a whole meeting room or improve the clarity of your cubicle, dual microphones, and a light-adjusting lens, the Growfast Webcam brings plenty to the table. It's ideal for video calling and other recording purposes and works on both Mac and Windows.
Pros:
Connects via USB to your computer for easy plug and play setup, and runs at about 30 FPS.
The camera has a viewing angle of about 100 degrees and the device uses new technologies to record and compress video for streaming simultaneously, allowing for less lag and more fluid video calling.
Cons:
Webcam For Mackinac Bridge
Doesn't have a manual or customer support for the device functionality, so you'll be relying on its plug-and-play and ease of use.
Helpful Tips & Resources
Unfortunately, most webcams aren't just plug-and-play pieces of technology. You'll likely need to install drivers and have administrator rights to the computer, so make sure you can do that before you get started.
Then, if you're on Windows you can follow this guide from BBC WebWise on how to get your camera up and running. If you're using MacOS, you can use this helpful guide from the Apple Community on how to get things going.
Once everything is ready to go, make sure you know how to use your webcam effectively before you get started live streaming or video conferencing. Simple errors such as a poor backdrop can really decrease the quality and professionality of your video, so use this guide from CBS to get all the details on how to make sure your video conference goes as well as possible.
Final Words
You've got plenty of things to worry about on your Skype call besides whether your camera is working properly. From the outfit to backdrop to the proposal you're presenting, your webcam should be there to help you rather than hinder.
All of the models described in this article can give you the ease and security you need – but did we miss one you prefer?
If so, leave a comment below. We'd love to hear from you!
Logitech Quickcam Pro 4000
Chris is a computer geek for a decade. He loved talking to computers via codes, and now he finds it more interesting communicating with the real people. He now writes everything related to computer issues and loves helping people solve problems.